Click on Reopening Plans to view extensive details above for the district and below for each school.
As we evaluate our COVID-19 numbers in our communities, we are planning to bring 7th grade back Monday, Tuesday, Thursday and Friday schedule (Wednesday will still be distance learning for 7-12) starting Monday, September 14. If our numbers continue downward, we will consider adding more grades at the high school level on the green schedule. For now, grades 8-12 will remain in the blended model of A and B scheduling. We are being proactive in our current models so we don't have to continually transition between models for students and parents. We feel confident at this time that 7th grade can return while still maintaining the six foot distance in classrooms.
This is not an easy decision. We need to do what is best for students while making sure we keep our staff safe. We had COVID-19 incidences in our building this past week. We will continue to monitor and communicate as needed.
Please remember to practice social distancing and mask wearing not only at school but also out of school. We want our numbers to continue to go down and our communities to stay healthy.
We are guided by our county COVID-19 Counts found at this link: Data for K-12 Schools:14-day COVID-19 Case Rate by County
MDE Safe Learning Model Dashboard
The Minnesota Department of Health recently released a COVID-19 Decision Tree for People in Schools, Youth, and Child Care Programs.
COVID-19 Attendance Guide for Parents and Families (PDF)
Guide for parents and families to understand when children can attend school, youth programs, and child care during COVID-19.

Home Screening Tool for COVID-19 Symptoms (PDF)
Home screening tool for parents and guardians related to COVID-19.

Additional School Resources:
Materials and Resources for COVID-19 Response
Videos, print materials (includes school-specific posters), and translated documents to assist with responding to COVID-19.
Back to School Nurse Information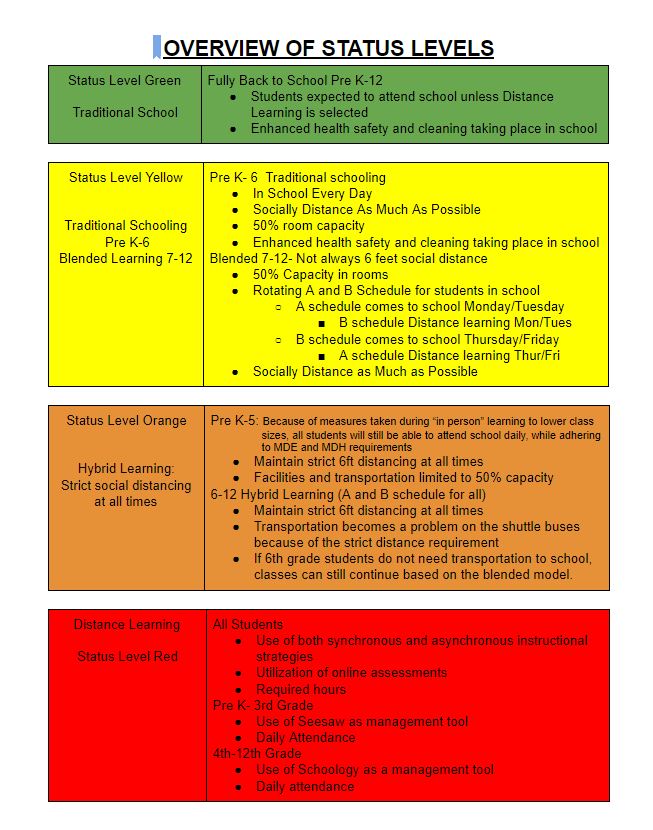 Q: Why is JCC using a blending model for 7-12 students when guidance shows we could use an in-person model?
A: In order to avoid total distance learning, we feel that the blended model keeps our students and staff safer and allows us to transition between models most effectively. Covid cases among people aged 16-19 are rising rapidly. Blended learning allows us to control exposure among that population. This model also allows for social distancing in grade 7-12.
We will evaluate the effectiveness of this model mid to late September and make adjustments according to state and local guidance from the Minnesota Department of Education and Minnesota Department of Health.
Q:Will the District calendar still be followed?
A: Yes, the calendar will be followed.
Click here for: Jackson County Central School Calendar
Q: Will the school day hours stay the same?
A: School hours will stay the same.
High School - 8:10-3:00
Middle School - 8:15-3:05
Riverside - 8:20-3:05
Pleasantview - 8:20-3:05
*Wednesdays continue to be an early dismissal at 2:00.
Q: Will recess be allowed?
A: Students in K-8 will have recess everyday. If weather permits it will be outside, and if the weather isn't accessible it will be inside the school.
Q: What is the timeline for parents to decide if they would like their child to do distance learning or in-person learning?
A: Parents will have until August 7, 2020 to decide how their child is going to start the school year. If you choose to distance learn, students will continue this for 9 weeks. At the end of this time period, students will be able to change their instructional model to in-person. Parents may choose at any time to transition their child into distance learning, but will not be allowed to transition back to in-person learning until the next 9 weeks begins.
Q: What are the attendance expectations for distance learning?
A: Distance learning attendance will be taken differently than in the spring. Students will be required to meet the state mandated minutes for the year. With this, students will have to check in with their teacher(s) during the day to ensure the learning time is met. This is in accordance with the Minnesota Department of Education attendance guidelines.
Q: For distance learning, do we expect students to stay in front of a screen for the entire day?
A: No. Students will be required to be in attendance during instructional time for each class. The amount of screen time will vary day to day based on the instruction, work time needed, age of students, and other variables.
Q: Who will be required to wear a mask?
A: All staff and students kindergarten and above will be required to wear a mask, per Governor's Executive Order 20-81. For more information, please see the Minnesota Department of Health website: https://www.health.state.mn.us/diseases/coronavirus/facecoverfaq.html
Q: Will students bring backpacks and other personal items to school?
A: Yes. All students will be allowed to bring their backpacks to school, and these will be placed in their lockers in the morning. These will not be allowed in any classroom or other parts of the building. Students will have opportunities throughout the day to go to the lockers as needed.
Q: How will supplies work? Will each student need to have their own supplies daily?
A: Students will need to bring their own supplies, as listed on the school supply list. Classroom supplies will be provided to individuals as possible, and if shared, will be properly disinfected before other students use.
Q: Will students be allowed to wear their personal facial coverings?
A: Yes, these masks must adhere to the school dress code and meet the facial covering guidelines that cover the nose and mouth of the student. The school will provide each student with one cloth mask and 3 disposable masks as well.
Q: Who will provide accommodations for online sped students?
A: Special education and general education teachers will work together to provide accommodations to students.
Q: Will parents be required to sign a contract (expectations) before the students are allowed in the building?
A: No; however, parents and students are expected to follow our district policies, guidelines, and expectations. Students are also required to follow social distancing, and other recommendations made by the Minnesota Department of Health and Minnesota Department of Education.
Q: What if my student becomes sick at school?
A: If your child is sick or presenting symptoms of Covid at school, they will be
monitored in a designated Covid area. The nurse will follow protocol and parents will be notified. We will follow the recommendations from the Minnesota Department of Health.
Click here for more information: Decision Tree for Covid-19 Symptoms
Q: What if my student tests positive for Covid?
A: Immediately notify the health office at your school. Follow the recommendations from your physician and Minnesota Department of Health. If you are distance learning, this will continue as your child's health allows. If you were in-person, your child will immediately switch to distance learning if their health allows. Your teacher(s) will be in contact with your child.
Click here for more information: Decision Tree for Covid-19 Symptoms
Q: What if my student was exposed to Covid?
A: Immediately notify the health office at your school. We will reference the Minnesota Department of Health decision tree to determine what the next steps will be for your child.
Click here for more information: Decision Tree for Covid-19 Symptoms
Q: What if someone in my home has tested positive to Covid?
A: Immediately notify the health office at your school. We will reference the Minnesota Department of Health decision tree to determine what the next steps will be for your child.
Click here for more information: Decision Tree for Covid-19 Symptoms
Q: Who will be allowed in the school?
A: We will only allow students and staff in the buildings.
Q: How often will the building and rooms be cleaned?
A: Staff will be frequently cleaning surfaces and materials between classes, groups of students, and frequently used materials after each use. Custodians will be conducting a nightly clean, as well as additional thorough cleans of high traffic areas as needed.
Q: If my student is distance learning, will they still get breakfast and lunch from the school?
A: We want to make sure that no matter where our students are learning that they have the fuel they need to learn.
During Yellow, Orange or Red, meals will be available to students for days they are not In Person.

Meals will be available for pickup on Wednesdays, time TBD, at either JCC High School or Pleasantview Elementary.

Parents/Guardians must complete the Fall Food Service Survey to sign up for meals. Meals will be charged to the students meal account. We strongly encourage families to submit the Application for Educational Benefits.

Questions can be directed to Kari Rubitschung, Food Service Director, at 507-847-6637 or kari.rubitschung@jccschools.net.
Q: Will my child be daily monitored for Covid symptoms?
A: Yes, parents should be taking their child's temperature prior to sending their child to school and the child has no new onset or worsening COVID signs or symptoms.
First hour teachers will do a check in with each child as they come to school and will direct questions or concerns to the designated health personnel of the building.
Facial covering Questions can be answered at: FAQ about facial covering wearing - MDH website
This past spring has brought unprecedented changes to our lives and our school system. As we plan for the 2020-21 school year, in compliance with the Minnesota Department of Education (MDE) and the Minnesota Department of Health (MDH) guidance, our focus is to create an educational delivery system to keep our students, families and staff healthy and safe.
JCC has formed a team to begin mapping out the needs for three scenarios, in –school, hybrid and distance learning, for the 2020 school year. The goal is to have our school ready for whatever the public health situation may require. It is the intent of the school district to be ready to switch between these scenarios if/when we are asked to do so by MDE/MDH.
As we formalize these plans one goal remains, to develop a system of instruction that meets the needs of every learner regardless of their situation. The district will continue to finalize the details and will share the reopening plans sometime during the first week of August. Additionally, thank you to our families and staff who offered input during the planning process by completing surveys.
The State plans to announce guidelines on Thursday, July 30th. After review of those guidelines, we will publish our reopening plans below.
After hearing the press conference from the state, we will make some adjustments to our reopening plan. Once we finalize our plan, we will send it out to parents, publish it on this site and share with the community on Wednesday, August 5th at 3pm. Thank you for your patience.