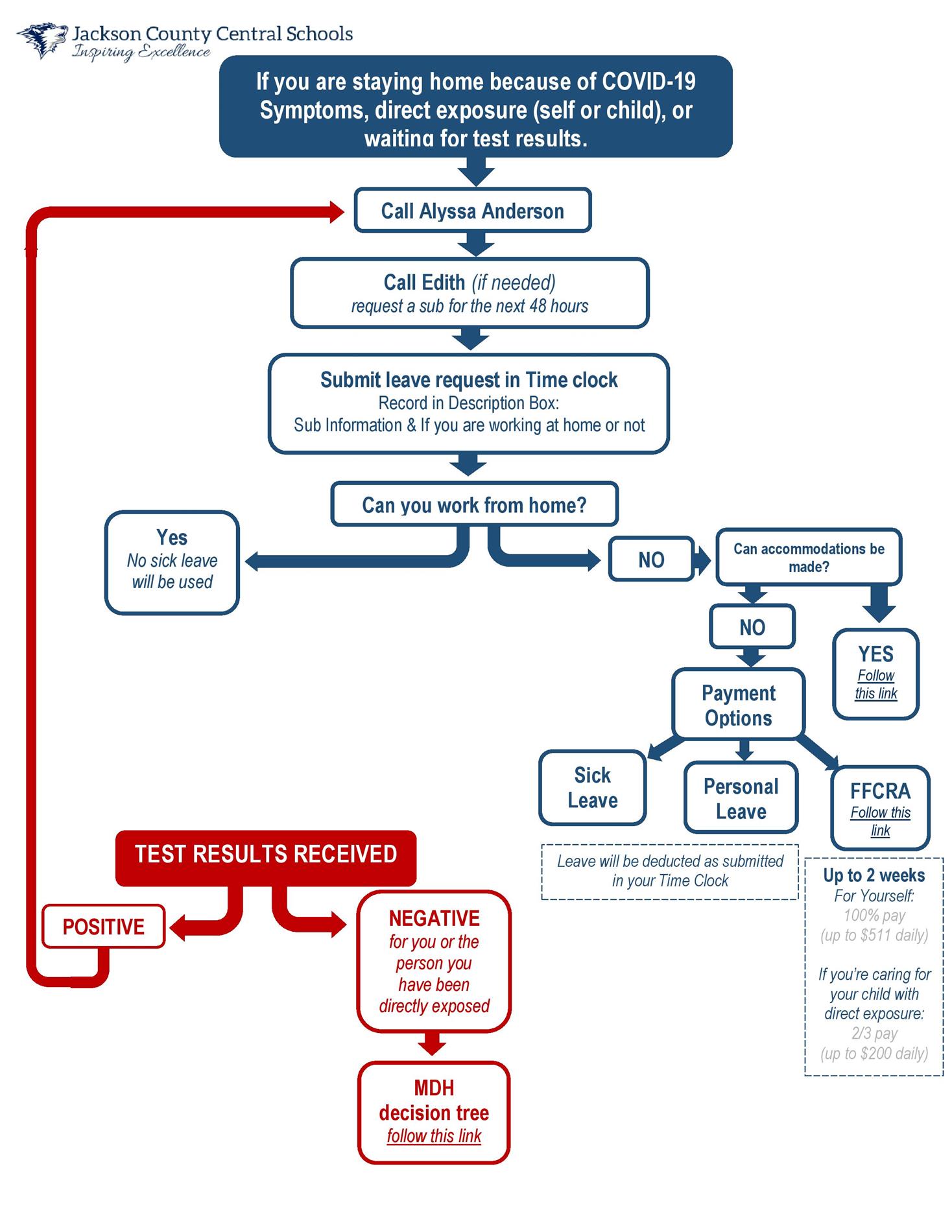 Please contact Darci Thurmer at Kids Club Childcare if you need care for your PreK through 12 year old child during any distance learning times by text 507 841 3528 or email darci.thurmer@jccschools.net
Alyssa can be reached at her direct line 507 847 6658 or alyssa.anderson@jccschools.net. Please continue to reach our to her during our breaks and distance learning if you or a family member are ill, being tested for COVID-19 or been identified as a close contact. Remember to contact her before returning to work if you have been ill, on quarantine of tested. Documentation is required before returning to work!! We want everyone to stay healthy.
Starting Jan 12th and every other Tuesday moving forward we will have COVID19 testing available for anyone who is employed or contracted with JCC Schools.
This COVID testing is the Saliva test. Anyone is able to take a COVID-19 test- if you are asymptomatic and have not been identified as a direct contact, you take the test and return to work no quarantine is required. If you are symptomatic or have been identified as a direct contact and tested at JCC once you have taken the test you will be required to quarantine until the results are back. It is very important you can NOT EAT, DRINK, CHEW GUM, 30 MINS PRIOR TO TAKING YOUR TEST.
You can pre register if you have not made an account on Vault yet, Go to pre-registration URL (http://vaulthealth.com/covid/start?var_c=onpre). Contact Alyssa Anderson if you have a question or if you no longer have her email with locations and times.
Face Shields Clarification
The Safe Learning Plan has been updated to reflect new changes in the Minnesota Department of Health's 2020 - 2021 Planning Guide for Schools. Pages 8-12 have specific details on face shields. School districts and charter schools are strongly encouraged to require staff operating in-person or hybrid learning to wear face masks and face shields together whenever possible during the school day as an important additional health and safety precaution to prevent against the spread of COVID-19 in our school communities. Districts and charter schools will receive additional masks and shields from the state and school leaders must provide them to staff. The face covering requirements under Executive Order 20-81 remain in effect.
A week ago we reported that all staff needed to wear a face mask and face shield at all times with certain exceptions. Exceptions when you could just wear a face shield would be if you are a confirmed 6 feet apart from others, or are teaching and students need to see your mouth moving for educational purposes. A face mask or a face shield has to be worn unless you are 12 feet away from other people. These guidelines have been updated to start Jan 18th, not Jan. 4th, but are still being strongly recommended to be enforced at all times per MDE and MDH.
Updated guidelines
[UPDATED 12/23/20]: It is strongly recommended that districts and charter schools require staff to wear facemasks and face shields together whenever possible during the school day. School districts and charter schools should strongly consider the following as the only exemptions for their masking and face shield requirement policy: When staff are serving students in settings where seeing a person's lips is necessary, staff are strongly encouraged to wear a clear facemask in addition to the required face shield. If they do not have access to a clear facemask, they can choose to only wear the required face shield.
When staff are providing direct services that require close, physical, and prolonged contact, schools should follow MDH's Guidance for Delivering Direct Student Support Services: Staff Protective Equipment (www.health.state.mn.us/diseases/coronavirus/schools/directsupport.pdf).
[UPDATED 12/23/20]: When staff are performing duties in which a facemask and a face shield worn together are creating a safety concern (e.g., visual impairment while operating a vehicle, working in a kitchen, lab etc.), staff may choose to only wear the required facemask.
Re cap- STARTING JANUARY 18TH- All staff must wear a face mask and face shield at the same time when they are closer than 6 feet and interacting with others. If you are working with others and using the social distancing guidelines just a face mask or face shield is appropriate. If you are working with small groups of kids, and are close to them even if it is not 15 mins, you should be wearing a face mask and face shield. THIS IS FOR ALL SCHOOL STAFF, not just teaching staff. If you have questions, contact Alyssa or your school administrator for guidelines.
Students are still required to wear face masks in PE and Recess while it is indoors.
Elementary Art and Music classes can be held in their own rooms, as long as we are assuring 6 feet social distancing at all times.
Student lunchroom processes will NOT change at this time. Students will be eating in the lunchroom WITH THEIR COHORTS, no mixing of classes at tables, and assuring as much distance as possible (the goal is 6 feet apart when eating). If we have a large outbreak, we will change this back into the classrooms if needed.
See your email for a NEW vaccine survey, we are moving ahead with getting staff vaccinated.
Also we will be offering staff saliva testing in the schools every other week. This is NOT required but is for staff to complete if they wish. The first test date is Jan. 12th. Alyssa will be sending a detailed email on this.
*** We will have a brief all staff meeting on January 6th at 3:15 pm. We will discuss the updates, activities , future plans for in person learning and building updates. This will be a zoom meeting.